Daño cardiaco frente a hepático por consumo de bebidas energizantes en ratas cepa Holtzman
Resumen
RESUMEN
Objetivo: El consumo de bebidas energéticas (BE) está aumentando principalmente en jóvenes, debido a que promete mejorar el estado de alerta, el rendimiento físico y cognitivo y evita la fatiga. En nuestro país, una BE tiene alta concentración de cafeína y azúcar por botella, y es altamente comercializada y barata. Sin embargo, las BE tienen efectos adversos como complicaciones cardiovasculares, neurales y gastrointestinales. Los estudios indican un mayor daño en hígado y corazón, señalados por altos niveles séricos de GOT y daño tisular. El objetivo de nuestro estudio es determinar si el corazón o hígado, presenta más daño por consumo de BE en ratas Holtzman. Métodos: Se clasificaron 32 ratas Holtzman macho aleatoriamente en dos grupos con tratamientos diferentes por administración oral. El Grupo 1 (Control) recibió agua potable y el Grupo 2 (Experimental) recibió una bebida energética de 5,49 ml / 260 g; ambos grupos durante 30 días. Se proporcionó aclimatación previa y alimento. Durante el período experimental, hubo cuatro extracciones de sangre para análisis de GOT sérico. Se sacrificaron por exanguinación bajo anestesia obteniendo muestras de corazón e hígado. Resultados: Se encontró aumento de la concentración sérica de GOT en el grupo experimental comparado con el control. El análisis histológico que evaluó congestión vascular, necrosis y edema en ambos tejidos, reveló que el corazón tenía mayor daño que el hígado. Conclusión: El tejido cardiaco presenta mayor daño que el tejido hepático por consumo de BE en ratas Holtzman macho, manifestados por incremento de GOT y alteraciones histopatológicas.
Palabras clave: Bebidas energéticas, transaminasas glutámicas oxaloacéticas (GOT), daño cardiaco, daño hepático.
Citas
Higgings JP, Babu K, Deuster PA, Shearer J. Energy Drinks: A Contemporary Issues Paper. Curr Sports Med Rep [Internet]. 2018 [consultado 06 de Abril 2019]; 17(2): 65-72. Disponible en: https://journals.lww.com/acsmcsmr/fulltext/2018/02000/Energy_Drinks___A_Contemporary_Issues_Paper.9.aspx?fbclid=IwAR0lC7MbCzIG7ElXUj-KTClNI7f50A_H-6x58RIlhTUoNzSvY8tb_jLsiQw
Gadh I. Al-Bashera, Hanan Aljabala, Rafa S. Almeera, Ahmed A. Allamb, Ayman M. Mahmoudb.Perinatal exposure to energy drink induces oxidative damage in the liver, kidney and brain, and behavioral alterations in mice offspring.Biomedicine & Pharmacotherapy 102 (2018) 798–811.
Al-Shaar L, Vercammen K, Lu C, Richardson S, Tamez M, Mattei J. Health Effects and Public Health Concerns of Energy Drink Consumption in the United States: A Mini-Review. Front Public Health [Internet]. 2017 [Citado 06 Abril 2019]; 5:225.
Sánchez J, Romero C, Arroyave C, García A, Giraldo F, Sánchez L. Bebidas energizantes: efectos benéficos y perjudiciales para la salud. Escuela de Nutrición y Dietética, Universidad de Antioquia. Medellín, Colombia. 2015; 17(1): 79-91.
Munteanu C, Rosioru C, Tarba C, Lang C. Long-term consumption of energy drinks induces biochemical and ultrastructural alterations in the heart muscle. Anatol J Cardiol [Internet]. 2018; 19: 326-33. Disponible en:https://www.ncbi.nlm.nih.gov/pmc/articles/PMC6280269/?fbclid=IwAR11ysRgFfOtQ2JJIpwqohQ2MCWsGjHwRe7n3IQ5yMX8amsaVqbhllR96Z4
Grasser EK, Miles-Chan JL, Charrière N, Loonam CR, Dulloo AG, Montani J-P. Energy Drinks and Their Impact on the Cardiovascular System: Potential Mechanisms. Adv Nutr. 2016;7(5):950–60.
Basrai M, Schweinlin A, Menzel J, Mielke H, Weikert C, Dusemund B, et al. Energy drinks induce acute cardiovascular and metabolic changes pointing to potential risks for young adults: A randomized controlled trial. J Nutr. 2019;149(3):441–50.
Miles-Chan JL, Charrière N, Grasser EK, Montani JP, Dulloo AG. The blood pressure-elevating effect of red bull energy drink is mimicked by caffeine but through different hemodynamic pathways. Physiol Rep. 2015;3(2):1–9.
Tavares C, Kimiko R. Cafeína para el Tratamiento del Dolor. Revista Brasileira de Anestesiologia. 2012; 62(3): 387-401. Disponible en: http://www.scielo.br/pdf/rba/v62n3/es_v62n3a11.pdf
Moratalla R. Neurobiología de las metilxantinas. Instituto Cajal. 2008; 10(3): 201-7. Disponible en: https://www.sciencedirect.com/science/article/pii/S1575097308763682
Tagliafico D. El Aparato Circulatorio en relación al Consumo de Cafeína. Universidad Abierta Interamericana. Rosario – Argentina. Octubre de 2008. Disponible en: http://www.monografias.com/trabajos-pdf/aparato-circulatorio-relacion-consumo-cafeina/aparato-circulatorio-relacion-consumo-cafeina.pdf?fbclid=IwAR1TRuHdOcw1JyUAixHHg5KWkJnK4VrRjP6q9PsCdS2hHnp0n6hLIXnuFvA
Martínez R. Avances en el metabolismo del nitrógeno. Editorial Club Universitario. 2015.
De Sanctis V, Soliman N, Soliman At, Elsedfy H, Di Maio S, El Kholy M et al. El consumo de energía de cafeína entre los adolescentes y las posibles consecuencias para la salud asociadas a su uso: un peligro de salud pública. Acta Biomed [Internet]. 2017 [citado 06 Abril 2019]; 88 (2): 222-31. Disponible en: https://www.ncbi.nlm.nih.gov/pubmed/28845841
Dunatchik A, Ito M, Dujovne C. A systematic review on evidence of the effectiveness and safety of a wax-matrix niacin formulation. J Clin Lipidol. 2012;6(2):121-31.
HPS2-THRIVE Collaborative Group. HPS2-THRIVE randomized placebo-controlled trial in 25 673 high-risk patients of ER niacin/laropiprant: trial design, pre-specified muscle and liver outcomes, and reasons for stopping study treatment. Eur Heart J. 2013; 34(17):1279-91.
Piper JA. Descripción general de las formulaciones de niacina: Las diferencias en la farmacocinética, eficacia y seguridad. Am J Health Syst Pharm 2016; 60 (suppl): S9-S14.
Russman S, Kullak-Ublick G, y Grattagliano I. Conceptos actuales de los mecanismos en la hepatotoxicidad inducida por fármacos. Curr Med Chem. 2009; 6(23):3041-53.
Mansy w, alogaiel DM, hanafi m, zakaria e. Efectos del consumo crónico de bebidas energéticas en hígado y riñón de ratas experimentales. Trop J pharm res [Internet]. 2017 [citado 06 Abril 2019]; 16 (12): 2849-56.
Harb J, Taylor Z, Khullar V, Sattari M. Rare cause of acute hepatitis: a common energy drink. BMJ Case Reports. 2016;:bcr2016216612.
Bárcenas-García J, Pérez-Ruiz M, González-Vadillo L, Jaime-Cruz R, Salazar-Posos J, Lazzarini R. Evaluación de las remodelaciones cardiacas por consumo crónico de una bebida energizante un modelo murino. Revista de toxicología en línea. 2017. Disponible: en https://www.researchgate.net/publication/322265137_Evaluacion_de_las_remodelaciones_cardiacas_por_consumo_cronico_de_una_bebida_energizante_en_un_modelo_murino
Oluwakemi Iyaniwura T, Ayoade Abdulfatai A. Toxicodynamic Effects of "Red Bull" Energy Drink in A Randomised Controlled Study on Local Strains of Adult Rabbits. J Biol Life Sci [Internet]. 2018 [Consultado 06 de Abril 2019]; 9(1):46-64. Disponible en https://www.researchgate.net/publication/323127864_Toxicodynamic_Effects_of_'Red_Bull'_Energy_Drink_in_A_Randomised_Controlled_Study_on_Local_Strains_of_Adult_Rabbits
Rengin Reis, Mohammad Charehsaz, Hande Sipahi, Asiye Is¸ın Do˘gan Ekici, C¸a˘glar Macit, Hatice Akkaya, and Ahmet Aydın.Energy Drink Induced Lipid Peroxidation and Oxidative Damage in Rat Liver and Brain When Used Alone or Combined with Alcohol.Institute of Food Technologists.2017
Nieradko-Iwanicka B, pietraszek d, pośnik k. El consumo prolongado de bebidas energéticas no afecta a los procesos de memoria, y aumenta la actividad de las transaminasas, y la concentración de colesterol - resultados del estudio de modelos animales. Fam med prim cuidado rev [Internet]. 2016 [citado 06 Abril 2019]; 18 (3): 313-16.
Nair AB, Jacob S. A simple practice guide for dose conversion between animals and human. J Basic Clin Pharm. 2016; 7(2):27-31.
Ross MH, PawlinaW. Histología. Texto y Atlas. Correlación con biología molecular y celular. 7ª ed. Barcelona:Wolters Kluwer; 2015.
Munteanu C, Rosioru C, Tarba C, Lang C. Long-term consumption of energy drinks induces biochemical and ultrastructural alterations in the heart muscle. Anatol J Cardiol [Internet]. 2018[citado 2019 Jul 02];19: 326–33.
Li S, Hong M, Tan H-Y, Wang N, Feng Y. Insights into the Role and Interdependence of Oxidative Stress and Inflammation in Liver Diseases. Oxid Med Cell Longev[Internet]. 2016[citado 2019 Jul 02];2016:1–21.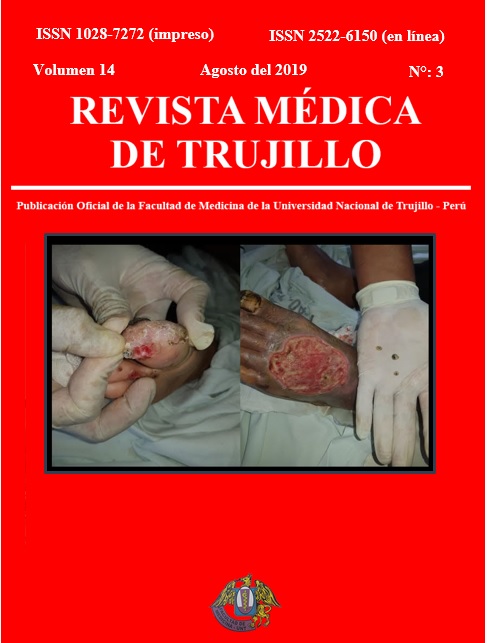 Descargas
Sección
ARTÍCULO ORIGINAL
Licencia
Los autores conservan los derechos de autor y ceden a la revista el derecho de primera publicación, con el trabajo registrado con la Licencia de Creative Commons, que permite a terceros utilizar lo publicado siempre que mencionen la autoría del trabajo, y a la primera publicación en esta revista.
 Los autores pueden realizar otros acuerdos contractuales independientes y adicionales para la distribución no exclusiva de la versión publicada en esta revista, siempre que indiquen claramente que el trabajo se publicó en esta revista. 
 Los autores pueden archivar en el repositorio de su institución:
La Tesis grado de la cual derive el artículo publicado.
La versión pre-print: la versión previa a la revisión por pares.
La versión Post-print: versión final posterior a la revisión por pares.
Todos los artículos publicados en la Revista Médica de Trujillo están protegidos por una Licencia Creative Commons: ATTRIBUTION 4.0 INTERNATIONAL (CC BY 4.0)