Exactitud diagnóstica en la imagen termográfica para la granulación de las úlceras diabéticas no infectadas
Resumen
Objetivo: Determinar la exactitud (Ex) por la sensibilidad(S), especificidad (E) de un estudio de prueba diagnóstica (PD) por imagen termográfica (IT)  en la granulación de las úlceras diabéticas no infectadas (UDSI)  que recibieron tratamiento  convencional o coadyuvante   en una unidad de pie diabético.
Material y métodos: El diseño fue transversal que se realizó con 29 pacientes diabéticos tipo 2   con UDSI comparando la observación directa de una zona de granulación  por IT  como  PD en evaluación respecto a estándar  por estudio anatómico patológico(AP) por medio de una biopsia tipo punch. El estudio obtuvo la autorización del comité de ética de la Facultad de medicina de la Universidad Nacional de Trujillo. Las estadísticas descriptivas se realizaron usando el programa SPSS y las estadísticas analíticas usando EPIDAT.
Resultados: Estos fueron realizados en 41 UDSI fueron un promedio de medidas de 2,98 x 2,33 cm de   largo y ancho respectivamente, predominio de la úlcera de tipo 2 por Wagner en el 70,7%, predominó la úlcera de tipo A según Universidad de Texas en 51,2%. Respecto al estudio AP, la IT presentó una S de 100%, E de 71,4%   y Ex de 90,2%, cuando se utilizaba para evaluar las zonas de granulación de las úlceras no infectadas de pie diabético
Conclusión: Este estudio presentó un S muy alta y E alta para detectar granulación por IT. La Ex fue   ideal por IT.   
Palabras claves DsC(BIREME): úlcera diabética, termografía, prueba diagnóstica 
Citas
Suvi JR, Yadi BM. Diabetes atlas. 8th edition, United Kingdom, International Diabetes Federation, 2017:7,82-95.
Noor S, Zubair M, Ahmad J. Diabetic foot ulcer--A review on pathophysiology, classification and microbial etiology. Diabetes Metab Syndr. 2015 ;9(3):192-9.
Hess CT. Assessing and documenting chronic wounds In: Hess CT. Wound care, 7th edition, Philadelphia, Wolters Kluwer, 2013:15-33.
Ghatak S, Hascall VC, Moreno-Rodriguez R, Markwald R, Misra S . Inflammation, Wound Healing,and Fibrosis In : Turksen K.Wound Healing: Stem Cells Repair and Restorations, Basic and Clinical Aspects, First Edition, New Deli , John Wiley & Sons,2018:195-209.
Sussman C. Skin and soft tissue anatomy healing physiology .In : Sussman C , Bates-Jensen B . Wound care .4th edition, Philadelphia, Wolters Kluwer, 2013:17-48
Alavi A, Niakosari F, Sibbald RG. When and How to Perform a Biopsy on a Chronic Wound. Adv skin wound care 2010; 23:132-40;
Mukherjee R, Tewary S, Routray A. Diagnostic and Prognostic Utility of Non-Invasive Multimodal Imaging in Chronic Wound Monitoring: A Systematic Review. J Med Syst 2017; 41:46.
Brioschi M, Teixeira ML, Silva MT Colman FM. Medical Thermography Textbook: Principles and Applications.primeria edition ,Sao Paolo, Editora e Livrari Andreoli 2010:9.
Hernandez-Contreras D, Peregrina-Barreto H, Rangel-Magdaleno J.Gonzalez-Bernal J. Narrative review: Diabetic foot and infrared thermography. Infrared Physics & Technology 2016;78: 105–117.
Fierheller M, Sibbald RG. A Clinical Investigation into the Relationship between Increased Periwound Skin Temperature and Local Wound Infection in Patients with Chronic Leg Ulcers. adv skin wound care 2010; 23:369-79.
Bujang MA, Adnan TH.. Requirements for Minimum Sample Size for Sensitivity and Specificity Analysis. J Clin Diagn Res. 2016; 10(10):1-6.
Carro G, Saurral R, Salvador F, Witman E. Medicina (Buenos Aires) 2018; 78: 243-251.
Rodríguez-Alonso D, Cabrejo-Paredes J. Exactitud y seguridad diagnóstica de la prueba neurológica y arterial según IWGDF en la neuropatía periférica diabética y enfermedad arterial periférica para diabéticos tipo 2 en la atención primaria . Horiz. Med 2018;18(3):12-18.
Wagner FW Jr. The dysvascular foot: a system for diagnosis and treatment. Foot Ankle 1981,2: 64-122.
Lavery LA, Armstrong DG, Harkless LB. Classification of diabetic foot wounds. J Foot Ankle Surg 1996; 35: 528–531.
Chanmugam A , Langemo D, Thomason K, Haan J et al. Relative Temperature Maximum in Wound Infection and Inflammation as Compared with a Control Subject Using Long-Wave Infrared Thermography. Adv Skin Wound Care. 2017 ;30(9):406-414.
Bharara M, Schoess J, Nouvong A, Armstrong DG. . Wound Inflammatory Index: A "Proof of Concept" Study to Assess Wound Healing Trajectory. J Diabetes Sci Technol. 2010 ,4(4):773-9.
Bassetto F, Lancerotto L, Salmaso R, Pandis L et al . Histological evolution of chronic wounds under negative pressure therapy. Journal of Plastic, Reconstructive & Aesthetic Surgery 2012 65: 91-9.
American Thermology Academy. Guidelines: Neuro-Musculoskeletal Thermography. USA, 2015.DisponIble en: https://aathermology.org/organization/guidelines/
Thomas RL, Zidan MA, Slovis TL. What you need to know about statistics Part I: validity of diagnostic and screening tests. Pediatr Radiol 2015; 45(2):146-
Leeflang MM. Systematic reviews and meta-analyses of diagnostic test accuracy. Clin Microbiol Infect 2014 ;20(2):105-13.
Thompson M, Van den Bruel A. Diagnostic Tests Toolkit. 1rst ed, John Wiley & Sons; Oxford, 2012:3-4.
Eusebi H. Diagnostic Accuracy measures .Ceerebrovasc Dis 2013;36:267-272.
Wang S, Anderson J, Evans R, Woo K et al . Point-of-care wound visioning technology: Reproducibility and accuracy of a wound measurement app. PLoS One 2017 ;12(8):1-14
Langemo DK, Spahn JG. A Reliability Study Using a Long-Wave Infrared Thermography Device to Identify Relative Tissue Temperature Variations of the Body Surface and Underlying Tissue. Adv Skin Wound Care. 2017 ;30(3):109-119.
Aliahmad B, Tint AN, Poosapadi Arjunan S, Rani P et al . Is Thermal Imaging a Useful Predictor of the Healing Status of Diabetes-Related Foot Ulcers? A Pilot Study. J Diabetes Sci Technol 2018 :1-6.
Vollmer M,Möllmann KP . Fundamentals of Infrared Thermal Imaging in: Vollmer M,Möllmann KP. Infrared Thermal Imaging Fundamentals, Research and Applications.Second ed, Wiley-VCH; Weinheim ,2018:1-106
Waleed HA, Imran S, Abeer YM, Muhammad HH. Assessment methods for angiogenesis and current approaches for its quantification. Indian J Pharmacol. 2014; 46(3): 251–256.
Keenan E, Gethin G, Flynn L, Watterson D, O'Connor GM. Enhanced thermal imaging of wound tissue for better clinical decision making. Physiol Meas. 2017 Jun;38(6):1104-1115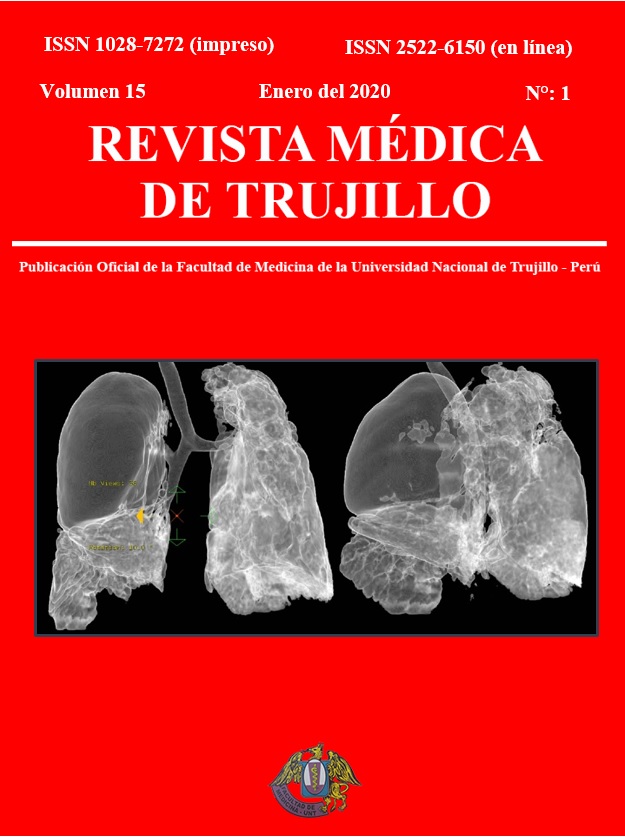 Descargas
Cómo citar
1.
Rodríguez-Alonso DH, Cabrejo-Paredes JE. Exactitud diagnóstica en la imagen termográfica para la granulación de las úlceras diabéticas no infectadas. Rev Med Trujillo [Internet]. 4 de febrero de 2020 [citado 11 de junio de 2023];15(1). Disponible en: https://revistas.unitru.edu.pe/index.php/RMT/article/view/2743
Sección
ARTÍCULO ORIGINAL