Efecto del Allium sativum sobre la eficacia de metformina en Rattus norvegicus con Diabetes Mellitus
Resumen
Objetivo: Evaluar el efecto del extracto de Allium sativum L. sobre la eficacia del tratamiento con metformina en Rattus norvegicus cepa Holtzman con diabetes mellitus inducida por aloxano. Material y métodos: Se realizó un estudio experimental aleatorizado, donde se utilizaron 48 ratas Holtzman y aloxano como inductor de diabetes mellitus. Los especímenes fueron distribuidos en cuatro grupos: Grupo 0 (G0): Sin ningún tratamiento (control); Grupo 1 (G1): extracto de Allium sativum L. 500 mg / kg; Grupo 2 (G2): metformina 100 mg/kg; Grupo 3 (G3): Extracto de Allium sativum L. 500 mg/kg más metformina 100 mg/kg. Las sustancias fueron administradas vía oral durante veintiocho días consecutivos, en los que se obtuvieron muestras sanguíneas mediante glucometría. Resultados: Se encontró una diferencia estadísticamente significativa (p<0,05) mediante la prueba ANOVA entre el grupo control (G0) y los grupos experimentales (G1, G2 y G3). La prueba de Duncan demostró una diferencia significativa entre los grupos G2 y G3 (p<0,05). Conclusiones: El extracto de Allium sativum L.  tuvo un efecto potenciador sobre la metformina en Rattus norvegicus cepa Holtzman con Diabetes Mellitus inducida por aloxano. Palabras claves: Allium sativum, diabetes mellitus, metformina, glucemia. (Fuente: DeCS)
Citas
Villena JE. Diabetes Mellitus in Peru. Ann Glob Heal [Internet]. 2015;81(6):765–75. Available from: http://dx.doi.org/10.1016/j.aogh.2015.12.018
Almalki D, Alghamdi S, Al-Attar A. Comparative Study on the Influence of Some Medicinal Plants on Diabetes Induced by Streptozotocin in Male Rats. BioMed Research International [Internet]. 2019 [cited 24 June 2019]; 2019:1-11. Available from: https://www.ncbi.nlm.nih.gov/pmc/articles/PMC6415286/
Safiriyu A, Semuyaba I, Lawal S, Buhari M, Tiyo E, Kalange M et al. Comparative Study of the Effects of Metformin and Garlic Extract on Hippocampal Na+/K+ ATPase, Ca2+ATPase and Glutamine Synthetase Activities in Type II Diabetic Wistar Rat. Journal of Biomedical Science and Engineering [Internet]. 2018 [cited 24 June 2019]; 11(09):254-262. Disponible en: https://file.scirp.org/Html/3-9102495_87599.htm
American Diabetes Association AD. Diagnosis and classification of diabetes mellitus. Diabetes Care [Internet]. 2014 Jan 1 [cited 2019 Apr 04];37 Suppl 1(Supplement 1): S81-90. Available from: http://www.ncbi.nlm.nih.gov/pubmed/24357215
Ziamajidi N, Behrouj H, Abbasalipourkabir R, Lotfi F. Ameliorative Effects of Allium sativum Extract on iNOS Gene Expression and NO Production in Liver of Streptozotocin + Nicotinamide-Induced Diabetic Rats. Indian Journal of Clinical Biochemistry.2017[cited24June2019];33(2):147153.Availablefrom:https://www.ncbi.nlm.nih.gov/pmc/articles/PMC5891448/
Goodman L, Gilman A, Bunton L, Chabner B, Knollmann B. Las bases farmacológicas de la terapéutica. 13th ed. México: McGraw-Hill; 2014.
Rodulfo J, Blanco T, Aure G, Palacios A. Metformina, el fármaco paradigma del siglo XXI [Internet]. Svmi.web.ve. 2019 [cited 5 April 2019]. Available from: http://www.svmi.web.ve/ojs/index.php/medint/article/view/409
Hernández Yero A, Torres Herrera O, Carrasco Martínez B, Nasiff Hadad A, Castelo Elías-Calles L, Pérez Pérez L et al. [Internet]. Scielo.sld.cu. 2019 [cited 5 April 2019]. Available from: http://scielo.sld.cu/pdf/end/v22n1/end080111.pdf.
Kushwaha S, Shah SK, Patel N, Tyagi CK. Effects of hydroalcoholic extract of Allium sativum on STZ induce hyperglycemia. 2016;5(8):106–10. 1. 3.
Oboh G, Ademiluyi A, Agunloye O, Ademosun A, Ogunsakin B. Inhibitory Effect of Garlic, Purple Onion, and White Onion on Key Enzymes Linked with Type 2 Diabetes and Hypertension. Journal of Dietary Supplements [Internet]. 2018 [cited 30 June 2019];16(1):105-118.Availablefrom: https://www.ncbi.nlm.nih.gov/pubmed/29522359
Hossain M., Islam M, Islam M. Comparative study of antihyperglycemic and antihypercholesteromic effect of aquous extract of Allium sativum (Garlic) and Zingiber officinale (Ginger) in alloxan induced rats. Int J Anim Resour. 2016;2025(1):11–81
Singh R. Garlic : A spice with wide medicinal actions Garlic : A spice with wide medicinal actions. 2019; 8:1349–55.
Zhai, B., Zhang, C., Sheng, Y., Zhao, C., He, X., Xu, W., Huang, K., Luo, Y.. Hypoglycemic and hypolipidemic effect of S-allyl-cysteine sulfoxide (alliin) in DIO mice. Scientific Reports. 2018; 8(1).
Rahimi-Madiseh M, Heidarian E, Kheiri S, Rafieian-Kopaei M. Effect of hydroalcoholic Allium ampeloprasum extract on oxidative stress, diabetes mellitus and dyslipidemia in alloxan-induced diabetic rats. Biomed Pharmacother. 2017; 86:363–7.
S. Adel, E. Samy, A. Ahmad, M. Ahmad Mostafa. Effect of Garlic (Allium Sativum) Water Extract and Vitamin E on Alloxan - Nicotinamide Adult Male Diabetic Rat. 2015 Vol.44 Número 4, páginas 497-510
Poonam Tripathi, Prem Prakash Gupta, Vijay Kumar Lal. Effect of Co-administration of Allium sativum extract and Metformin on Blood glucose of Streptozotocin induced diabetic rats. J Intercult Ethnopharmacol 2013; 2(2):81-84
Wang J, et al. Effect of garlic supplement in the management of type 2 diabetes mellitus (T2DM) a meta-analysis of randomized controlled trials. Food Nutr Res. 2017;61(1)1377571.Disponibleen:https://www.ncbi.nlm.nih.gov/pmc/articles/PMC5642189/
Hester F, et al. The Anti-Diabetic Potential of Thermally Treated Garlic, Turmeric, and Ginger in Pre-Diabetic Male Wistar Rat Model. Food Nutr Sci. 2018;09(04)
Aranda Ventura, J. Villacres. Efecto hipoglicemiante de los extractos de Tabebuia obscura (Tahari oscuro) sobre ratas con diabetes mellitus experiental. REVISTA PERUANA DE MEDICINA INTEGRATIVA.2016; 1(1):19-24.
Bowe, Franklin, Z.J, Hauge, A.C, Metabolic Phenotyping Guideline's: Assessing glucose homeostasis in rodent models. Journal of endocrinology.2014; 222(3): 13-25.
Quaile MP, Melich DH, Jordan HL, Nold JB, Chism JP, Polli JW, et al. Toxicity and toxicokinetics of metformin in rats. Toxicol Appl Pharmacol [Internet]. 2010 Mar 15 [cited 2019 Jun 30]; 243(3):340–7. Available from: https://www.sciencedirect.com/science/article/pii/S0041008X09004992
Vílchez H, Pineda M, Villanueva L, Pulido V. Actividad Hipoglucemiante de los Extractos de Smallanthus sonchifolius "yacón" y Vitis vinífera "uva" en Ratas con Diabetes Inducida por Aloxano. ARNALDOA [Internet]. 2018 [cited 7 April 2019]; 25(2). Available from: http://journal.upao.edu.pe/Arnaldoa/article/view/880
Inocente M, Guija E, Zarzosa E, Loja B, Eloy J. Efecto hipoglicemiante de los extractos acuoso y etanólico de Psidium guajava L. (Guayaba) en ratas diabéticas inducidas por aloxano. Horiz Med [Internet]. 2015 [cited 7 April 2019]; 15(2):8. Available from: http://www.scielo.org.pe/pdf/hm/v15n2/a07v15n2.pdf
Campuzano-Bublitz MA, Rolón LE, Vera LM, Kennedy ML. Efecto del consumo de pulpa de Carica papaya sobre la glicemia y peso de ratones normo e hiperglicémicos por aloxano [Internet]. Vol. 68. 2018 [cited 2019 Jun 30]. Available from: https://search.proquest.com/openview/26ad3a6607d6a59a6aa6f92c98495e18/1?pq-origsite=gscholar&cbl=2032499
Herrera Calderón O, Chinchay Salazar R, Palomino Ormeño E, Arango Valencia E, Arroyo J. Efecto hipoglucemiante del extracto etanólico de Geranium ruizii Hieron. (pasuchaca) en la hiperglucemia inducida por aloxano en ratas. anales [Internet]. 10jul.2015 [citado 2019 Jul 1];76(2):117-22. Available from: https://revistasinvestigacion.unmsm.edu.pe/index.php/anales/article/view/11135
Zou W, Yang Y, Gu Y, Zhu P, Zhang M, Cheng Z et al. Repeated Blood Collection from Tail Vein of Non-Anesthetized Rats with a Vacuum Blood Collection System. Journal of Visualized Experiments [Internet]. 2017 [cited 30 June 2019];(130). Available from: https://www.ncbi.nlm.nih.gov/pubmed/29286462
Morton, D.B., Abbot, D., Close, B.S., Ewbank,R., Gask, D., Heath, M., et. al. Extracción de Sangre en los Mamíferos y Aves de Laboratorio. Laboratory Animals. 1993; 27: 1-22.
Fuentes Paredes F de M, Mendoza Yanavilca RA, Rosales Fernández A, Cisneros Tarmeño RA. Guia de manejo y cuidado de animales de laboratorio: Raton [Internet]. Instituto nacional de salud. 2008. 1–54 p. [cited 2019 Apr 17]. Available from: www.ins.gob.pe/insvirtual/images/.../GUIA_ANIMALES_RATON.pdf
Shane-McWhorter L. Biological Complementary Therapies: A Focus on Botanical Products in Diabetes.Diabetes Spectr[2001 Oct 1 [cited 2019 Jun 30];14(4):199-208.Availablefrom:http://spectrum.diabetesjournals.org/cgi/doi/10.2337/diaspect.14.4.199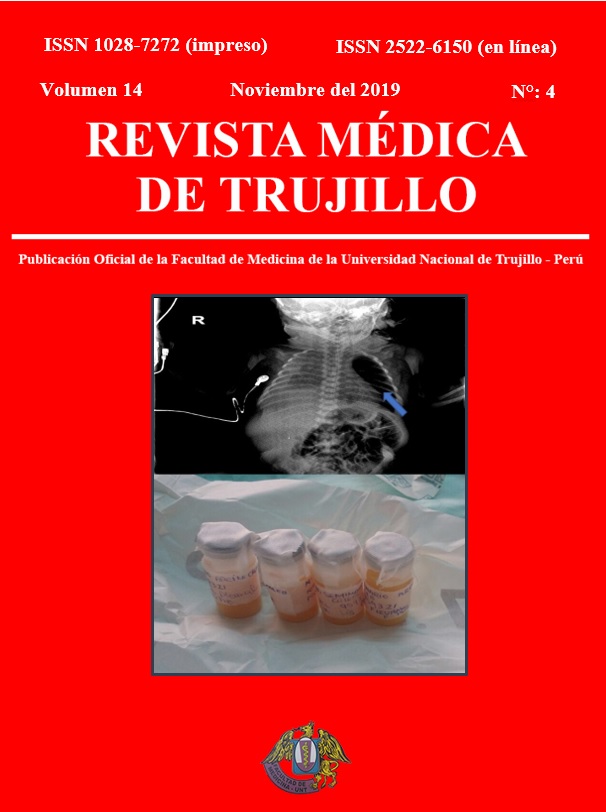 Descargas
Cómo citar
1.
Carranza-Jordan ME, Castañeda-Guzmán I, Castillo-Zegarra LA, Castro-Avalos FR, Cerna-Hilario MJC, Chavarry-Rodriguez LA, Cieza-Sanchez AB, Coral-Torres PA, Cortez-Espejo CI, Martin Cortez C, Cruz-Benites JA, Cruz-Rodríguez JC, Cruzado-Joaquín AI, Cueva-Bacilio OT, Dávila-Moreno RM, Gil-Reyes WM. Efecto del Allium sativum sobre la eficacia de metformina en Rattus norvegicus con Diabetes Mellitus. Rev Med Trujillo [Internet]. 12 de noviembre de 2019 [citado 11 de junio de 2023];14(4). Disponible en: https://revistas.unitru.edu.pe/index.php/RMT/article/view/2597
Sección
ARTÍCULO ORIGINAL