Evolución de la hipertensión pulmonar en el postoperatorio de cirugía cardiaca
Resumen
Objetivo: valorar la disminución de la presión de la arteria pulmonar y las complicaciones postoperatorias que se presentan tras cirugía de corrección de la patología que ocasiona la hipertensión pulmonar (HTP) severa.

Pacientes y Métodos: estudio retrospectivo de  pacientes intervenidos de cirugía cardiaca de recambio valvular, corrección de comunicación interauricular tipo ostium secundum, cirugía de revascularización coronaria o una combinación de ambas. Se evaluaron complicaciones y se cuantificó la presión arterial pulmonar mediante ecocardiografía doppler durante la primera semana postoperatoria.

Resultados: Fueron 14 pacientes los del grupo de hipertensión pulmonar severa y 355 los del grupo que no la presentaron. La presión de la arteria pulmonar basal del primer grupo fue 54,7 mmHg y  tras una semana de seguimiento fue de 41,73 (p < 0.05).  Los pacientes con hipertensión pulmonar severa presentaron una duración de ventilación mecánica  de 412 horas, mientras que la del grupo sin HTP severa fue de 18 horas (p < 0.001), la estancia media hospitalaria fue de 14 días para el grupo con HTP severa, mientras que de 9 días para el grupo sin HTP severa (p < 0.001). El grupo con HTP severa presentó mayores tasas de infección de la herida postoperatoria, insuficiencia cardiaca y derrame pericárdico (p < 0.05).  La mortalidad fue de 14% para el grupo de HTP severa y 6 % para el otro grupo ( p < 0.05).
Citas
Groves P. Valve disease: Surgery of valve disease: late results and late complications. Heart. 2001;86 :715-21.
Briongos Figuero S, Moya Mur JL, García-Lledó A, Centella T, Salido L, Aceña Navarro Á, et al. Predictors of persistent pulmonary hypertension after mitral valve replacement. Heart Vessels. 2016;31:1091-9.
Aris A; Camara ML. Long term results of mitral valve surgery in patients with severe pulmonary hipertension. Annals of thoracic surgery.1996; 61: 583-4.
Vincens JJ; Temizer D; Post JR; et al: Long – term outcome of cardiac surgery in patients with mitral stenosis and severe pulmonary hipertension. Circulation. 1995; 92: 137 – 42.
Parvathy UT, Rajan R, Faybushevich AG. Reversal of abnormal cardiac parameters following mitral valve replacement for severe mitral stenosis in relation to pulmonary artery pressure: A retrospective study of noninvasive parameters - Early and late pattern. Interv Med Appl Sci. 2016; 8:49-59.
Sajja LR, Manam GC: Role of closed mitral commissurotomy in mitral stenosis with severe pulmonary hypertension. Journal of heart valve disease. 2001; 10: 288 – 93.
Lorusso R, Borghetti V, Borghetti V, et al. The double orifice tecnique for mitral valve reconstruction: predictors of postoperative outcome. European journal of cardio-thoracic surgery. 2001; 20: 583-9.
MacHaalany J, Sénéchal M, O'Connor K, Abdelaal E, Plourde G, Voisine P, Rimac G, Tardif MA, Costerousse O, Bertrand OF. Early and late mortality after repair or replacement in mitral valve prolapse and functional ischemic mitral regurgitation: a systematic review and meta-analysis of observational studies. Int Cardiol. 2014; 173:499-505.
Ferreira R, Forcada P, Paganini A, Scervino L, De Palma C, Hourquebie H, et al. Comportamiento de la Hipertensión pulmonar en el postoperatorio inmediato de la cirugía valvular mitral. Rev. Arg. Cardiol. 1988; 56: 287-292.
Privalova EV, Cherepenin LP, Ershov VI, et al. Course of pulmonary hypertension in patients operated for rheumatic mitral heart disease. Terapevtichesdii arkhiv. 2000; 72: 58 – 62.
Zieliński T, Pogorzelska H, Rajecka A, Biedermavn A, Sliwiński M, Korewicki J. Pulmonary hemodynamics at rest and effort, 6 and 12 months after mitral valve replacement: a slow regression of effort pulmonary hypertension. Int J Cardiol. 1993;42:57-62.
Ota T; Tsukube T; Matsuda H; et al: Effect of mitral valve surgery on severely impaired pulmonary function. Thoracic and cardiovascular surgeon. 1994; 42: 94 - 9.
Cesnjevar RA; Feyrer R; Walther F; Mahmoud FO; et al. High-risk mitral valve replacement in severe pulmonary hypertension . European journal of cardio-thoracic surgery. 1998: 344 – 52
Tonelli AR, Minai OA. Saudi Guidelines on the Diagnosis and Treatment of Pulmonary Hypertension: Perioperative management in patients with pulmonary hypertension. Ann Thorac Med. 2014; 9: S98-S107.
Al Mosa AF, Omair A, Arifi AA, Najm HK. Mitral valve replacement for mitral stenosis: A 15-year single center experience. J Saudi Heart Assoc. 2016; 28:232-8.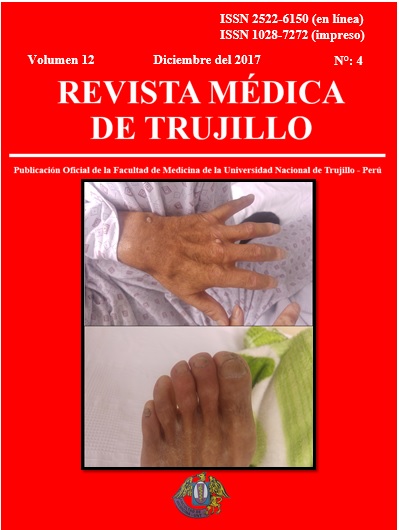 Descargas
Cómo citar
1.
Arméstar F, López Ayerbe J, Catalán B, Cámara ML, Ricart P. Evolución de la hipertensión pulmonar en el postoperatorio de cirugía cardiaca. Rev Med Trujillo [Internet]. 31 de diciembre de 2017 [citado 6 de diciembre de 2023];12(4). Disponible en: https://revistas.unitru.edu.pe/index.php/RMT/article/view/1652
Sección
ARTÍCULO ORIGINAL