"La vitamina D"
Resumen
La vitamina D tiene un rol importante en la homeostasis del calcio/fosfato, respuesta inmune, proliferación y diferenciación celular, procesos cognitivos. Sin embargo, su aporte deficiente o adecuado puede llevar al desarrollo de patologías o no. El receptor de vitamina D (VDR), perteneciente a la familia de receptores nucleares, desencadena la expresión o la transrepresión de genes involucrados con el metabolismo. El objetivo de esta investigación bibliográfica es mostrar los conocimientos actuales acerca de la vitamina D, comprender el mecanismo celular de la activación del receptor de vitamina D y los eventos fisiológicos y patológicos que se desencadenan cuando existe un adecuado e inadecuado aporte en la dieta. La vitamina D es una hormona que posee múltiples e importantes funciones en el organismo humano y animal. Podemos deducir que la mayor fuente de vitamina D en el organismo se encuentra en la síntesis en la piel, por el contrario, existen poblaciones en las cuales no se produce adecuadamente esta, es así que existe la necesidad de suplementar la dieta con vitamina D. La vitamina D tiene mucha influencia en el sistema inmune, proliferación y diferenciación celular, metabolismo y funciones cognitivas que, cuando se produce una deficiencia de esta vitamina suele desencadenar algunos fenómenos patológicos.

 

Palabras clave: vitamina D, receptor de vitamina D.
Citas
Hossein-nezhad A, Holick M. Vitamin D for Health: A Global Perspective. Mayo Clinic Proceedings 2013; 88(7): 720–755.
de Oliveira V, Lara G, Lourenço E, Boff B, Stauder G. Influencia de la vitamina D en la salud humana. Acta Bioquímica Clínica Latinoamericana. 2014; 48(3): 329-337.
Decloedt A, Van Landschoot A, Watson H, Vanderputten D, Vanhaecke L. Plant-Based Beverages as Good Sources of Free and Glycosidic Plant Sterols. Nutrients. 2017;10(1):21. doi:10.3390/nu10010021
Di Somma C, Scarano E, Barrea L, Zhukouskaya V, Savastano S, Mele C, et al. Vitamin D and Neurological Diseases: An Endocrine View. International Juornal Molecular Science. 2017;18(11):2482. doi:10.3390/ijms18112482
Rosen C, Adams J, Bikle D, Black D, Demay M, Manson J, et al. The nonskeletal effects of vitamin D: an Endocrine Society scientific statement. Endocrine Review. 2012;33(3):456-92.
Dou R, Ng K, Giovannucci E, Manson J, Qian Z, Ogino S. Vitamin D and colorectal cancer: molecular, epidemiological and clinical evidence. British Journal Nutrition. 2016; 115(9):1643-1660.
Meeker S, Seamons A, Maggio-Price L, Paik J. Protective links between vitamin D, inflammatory bowel disease and colon cancer. World Journal of Gastroenterology. 2016; 22(3): 933-948.
Bakke D, Sun J. Ancient Nuclear Receptor VDR with new functions: Microbiome and Inflammation. Inflammatory Bowel Diseases. 2018; 24(6): 1149-1154.
The Human Metabolome Database. Canada: Showing metabocard for Vitamin D. 2018.
Lucas F, Babot E, Cañellas M, del Rio J, Kalum L, Ullrich R, et al. Molecular determinants for selective C25-hydroxylation of vitamins D2 and D3 by fungal peroxygenases. Catalysis Sciencie & Technology. 2016; 1(6): 73-80.
Carmeliet G, Dermauw V, Bouillon R. Vitamin D signaling in calcium and bone homeostasis. A Delicate balance. Best Practice Resdential Clinic Endocrinology Metabolism. 2015; 4: 621-631.
Wacker M, Holick M. Vitamin D—Effects on Skeletal and Extraskeletal Health and the Need for Supplementation. Nutrients. 2013; 5: 111-148.
Christakos S, Dhawan P, Verstuyf A, Verlinden L, Carmeliet G. Vitamin D: Metabolism, Molecular Mechanism of Action, and Pleiotropic Effects. Physiological Reviews. 2015; 96(1): 365-408.
Zhu J, De Luca H. Vitamin D 25-hydroxylase: four decades of searching, are we there yet? Archives of Biochemistry and Biophysics. 523: 30–36, 2012.
Cheng J, Motola D, Mangelsdorf D, Russell D. De-orphanization of cytochrome P450 2R1: a microsomal vitamin D 25-hydroxilase. Journal of Biological Chemistry. 2003; 278(39): 38084-38093.
Chun R, Peercy B, Orwoll E, Nielson C, Adams J, Hewison M. Vitamin D and DBP: the free hormone hypothesis revisited. Journal of Steroid Biochemistry and Molecular Biology. 2013; 144 Pt A:132-7.
Jones G, Prosser D, Kaufmann M. Cytochrome P450-mediated metabolism of vitamin D. Journal of Lipid Research. 2014; 55(1): 13-31.
Masuda S, Prosser D, Guo Y, Kaufmann M, Jones G. Generation of a homology model for the human cytochrome P450, CYP24A1, and the testing of putative substrate binding residues by site-directed mutagenesis and enzyme activity studies. Archives Biochemistry and Biophysics. 2007; 460: 177–191.
De Luca H. Evolution of our understanding of vitamin D. Nutrition Reviews. 2008; 66(2): 73–87.
Bosch X. Hypercalcemia due to endogenous overproduction of 1,25-dihydroxyvitamin D in Crohn's disease. Gastroenterology. 1998; 114: 1061–1065.
Kočovská E, Gaughran F, Krivoy A, Meier U. Vitamin-D Deficiency As a Potential Environmental Risk Factor in Multiple Sclerosis, Schizophrenia, and Autism. Frontiers in Psychiatry. 2017; 8:47. doi:10.3389/fpsyt.2017.00047
Haussler M, Whitfield G, Kaneko I, Haussler C, Hsieh D, Hsieh J, et al. Molecular mechanisms of vitamin D action. Calcified Tissue International. 2013; 92(2): 77–98.
Zella L, Kim S, Shevde N, Pike J. Enhancers located within two introns of the vitamin D receptor gene mediate transcriptional autoregulation by 1,25-dihydroxyvitamin D3. Molecular Endocrinology. 2006; 20(6): 1231–1247.
Christakos S, Dhawan P, Verstuyf A, Verlinden L, Carmeliet G. Vitamin D: metabolism, molecular mechanism of action, and pleiotropic effects. American Physiology Society. 2015; 96(1): 365–408.
Kongsbak M, Levring T, Geisler C, von Essen M. The vitamin d receptor and T cell function. Front Immunol. 2013; 4: 148. doi:10.3389/fimmu.2013.00148
Tuoresmäki P, Väisänen S, Neme A, Heikkinen S, Carlberg C. Patterns of genome-wide VDR locations. PLoS One. 2014; 9(4): e96105. doi:10.1371/journal.pone.0096105
Umesono K, Murakami K, Thompson C, Evans R. Direct repeats as selective response elements for the thyroid hormone, retinoic acid, and vitamin D3 receptors. Cell. 1991; 65: 1255–1266.
Carlberg C, Bendik I, Wyss A, Meier E, Sturzenbecker L, Grippo J, et al. Two nuclear signalling pathways for vitamin D. Nature. 1993; 361: 657–660.
Nagpal S, Na S, Rathnachalam R. Noncalcemic actions of vitamin D receptor ligands. Endocrinology Reviews. 2005; 26: 662–687 10.1210/er.2004-0002
Panizo S. Mecanismos de calcificacion vascular asociado a la uremia y al tratamiento con calcitrol. Tesis doctoral. Universidad de Lleida; 2009.
Prietl B, Treiber G, Pieber T, Amrein K. Vitamin D and Immune Function. Nutrients. 2013; 5: 2502-2521.
Macías-Tomei C, Palacios C, Mariño M, Caría D. Valores de referencia de calcio, vitamina D, fósforo, magnesio y flúor para la población venezolana. Archivos Latinoamericanos de Nutrición. 2013; 63: 362-378.
Schlögl M, Holick M. Vitamin D and neurocognitive function. Clinical Interventions in Aging. 2014; 9: 559–568.
Cantorna M, Snyder L, Lin Y, Yang L. Vitamin D and 1,25(OH)2D regulation of T cells. Nutrients. 2015; 7(4): 3011-3021. doi:10.3390/nu7043011
Chesdachai S, Tangpricha V. Treatment of vitamin D deficiency in cystic fibrosis. Journal of Steroid Biochemistry and Molecular Biology. 2015; 164: 36-39.
Pincikova T, Paquin-Proulx D, Sandberg J, Flodström-Tullberg M, Hjelte L. Vitamin D treatment modulates immune activation in cystic fibrosis. Clinical & Experimental Immunology. 2017; 189(3): 359-371.
Mitri J, Dawson-Hughes B, Hu F, Pittas A. Effects of vitamin D and calcium supplementation on pancreatic β cell function, insulin sensitivity, and glycemia in adults at high risk of diabetes: the Calcium and Vitamin D for Diabetes Mellitus (CaDDM) randomized controlled trial. The American Journal of Clinical Nutrition. 2011; 94(2): 486-494.
Dutta D, Maisnam I, Shrivastava A, Sinha A, Ghosh S, Mukhopadhyay P, et al. Serum vitamin-D predicts insulin resistance in individuals with prediabetes. Indian Journal of Medical Research. 2013; 138(6): 853-860.
Penckofer S, Byrn M, Adams W, Emanuele M, Mumby P, Kouba J, et al. Vitamin D Supplementation Improves Mood in Women with Type 2 Diabetes. Journal of Diabetes Research. 2017; 2017: 8232863.
Lee C, Iyer G, Liu Y, Kalyani R, Bamba N, Ligon C, et al. The effect of vitamin D supplementation on glucose metabolism in type 2 diabetes mellitus: A systematic review and meta-analysis of intervention studies. Journal of Diabetes and its Complications. 2017; 31(7): 1115-1126.
Eyles D, Smith S, Kinobe R, Hewison M, McGrath J. Distribution of the vitamin D receptor and 1 alpha-hydroxylase in human brain. Journal of Chemical Neuroanatomy. 2005; 29(1):21–30.
Dhikav V, Anand K. Potential predictors of hippocampal atrophy in Alzheimer's disease. Drugs Aging. 2011; 28(1): 1–11.
Nimitphong H, Holick M. Vitamin D, neurocognitive functioning and immunocompetence. Current Opinion in Clinical Nutrition and Metabolic Care. 2011;14(1): 7–14.
Beydoun M, Ding E, Beydoun H, Tanaka T, Ferrucci L, Zonderman A. Vitamin D receptor and megalin gene polymorphisms and their associations with longitudinal cognitive change in US adults. The American Journal of Clinical Nutritional. 2012; 95(1): 163-178.
Kuningas M, Mooijaart S, Jolles J, Slagboom P, Westendorp R, van Heemst D. VDR gene variants associate with cognitive function and depressive symptoms in old age. Neurobiology of Aging. 2009; 30(3):466-473.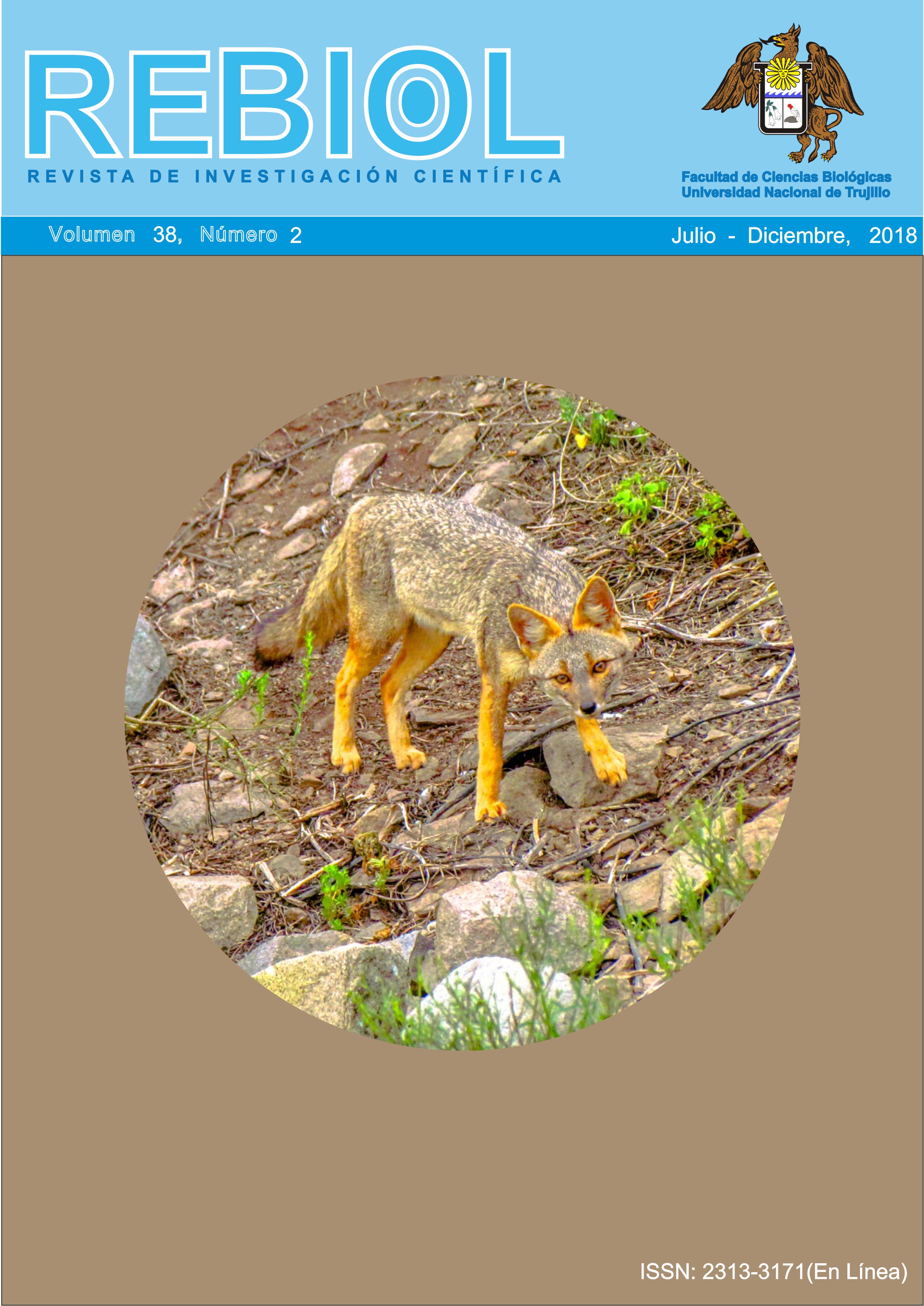 Descargas
Cómo citar
Calderón-Peña, A., & Aspajo-Villalaz, C. (2019). "La vitamina D". REBIOL, 38(2), 75-87. Recuperado a partir de https://revistas.unitru.edu.pe/index.php/facccbiol/article/view/2278
Sección
ARTÍCULOS DE REVISIÓN / OPINIÓN
Licencia
Derechos de autor 2019 REBIOL
Esta obra está bajo una licencia internacional Creative Commons Atribución-NoComercial-CompartirIgual 4.0.
Política propuesta para revistas que ofrecen acceso abierto
Los autores/as conservarán sus derechos de autor y garantizarán a la revista el derecho de primera publicación de su obra, el cual estará simultáneamente sujeto a la «Licencia de reconocimiento» de Creative Commons que permite a terceros compartir la obra siempre que se indique su autor y su primera publicación en esta revista.
Los autores podrán adoptar otros acuerdos de licencia no exclusiva de distribución de la versión de la obra publicada (por ejemplo, depositarla en un repositorio institucional o publicarla en un libro) siempre que se indique la publicación inicial en esta revista. 
Los autores tienen el derecho a hacer una posterior publicación de su trabajo, de utilizar el artículo o cualquier parte de aquel (por ejemplo: una compilación de sus trabajos, notas para conferencias, tesis, o para un libro), siempre que indiquen su publicación inicial en la revista REBIOL (autores del trabajo, revista, volumen, número y fecha).